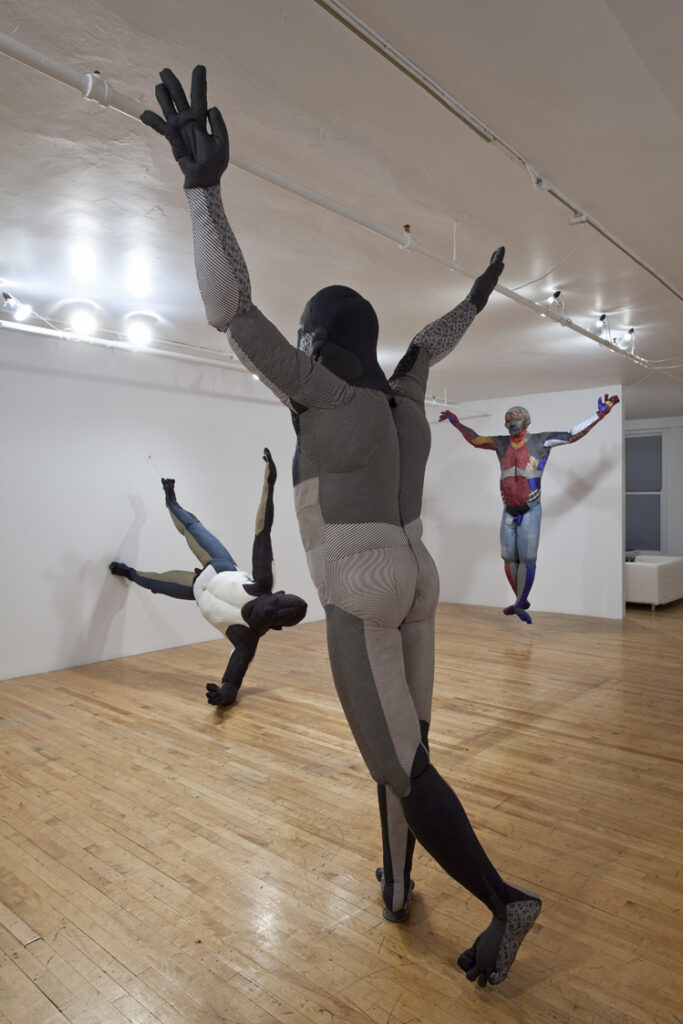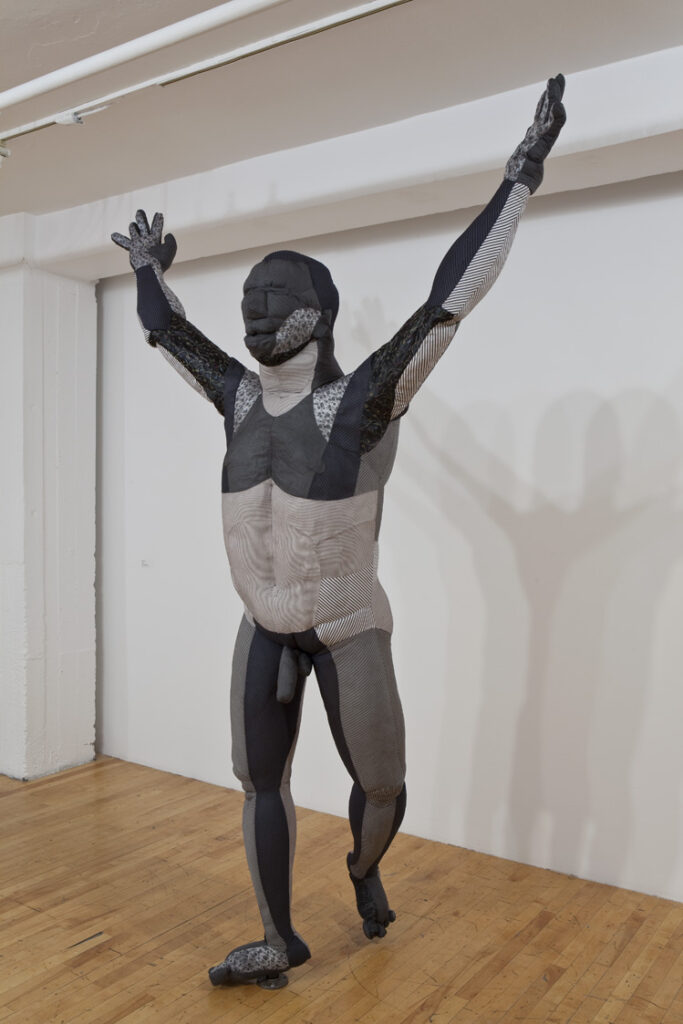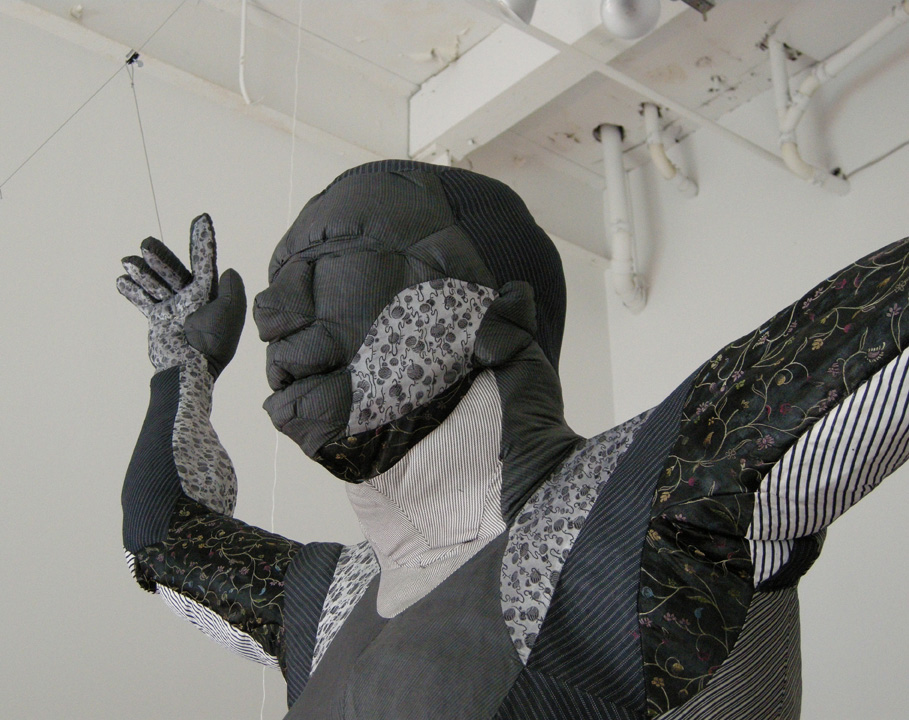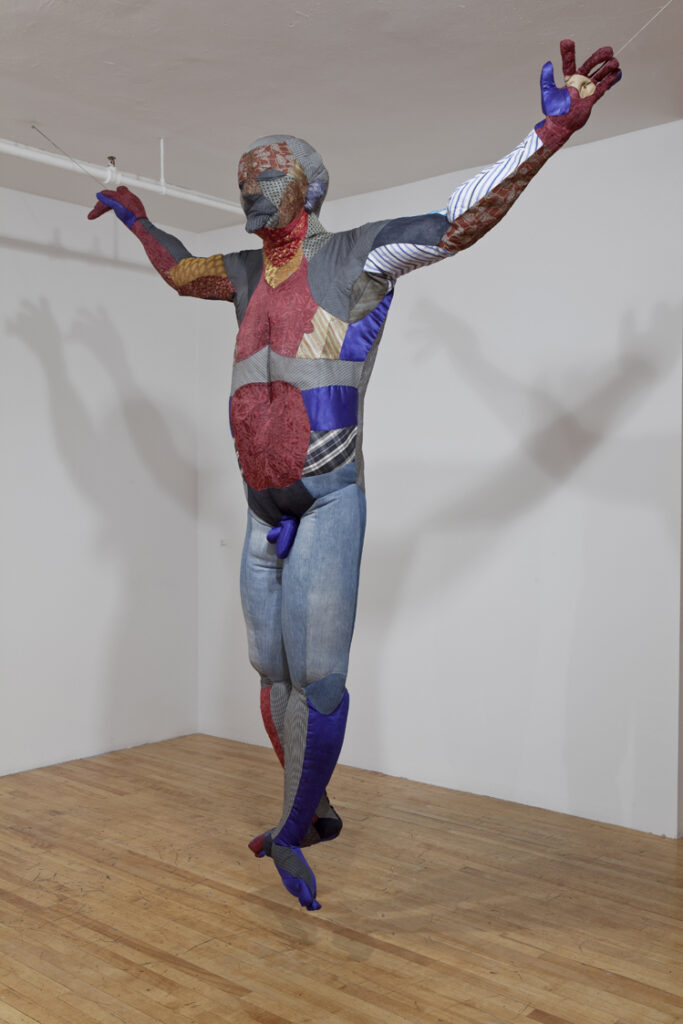 Photos © Guy L'Heureux.
Stephen Schofield's work is characterized by an intense engagement with materiality. Each work, ranging from monumental inflatable sculptures, to performances, drawings and videos, is carefully thought out and is distinguished by a play of dualities: strength and weakness; rigidity and flexibility; kinetics and statics, in order to negotiate a constant tension between presence and weight. These sculptures designed through a pattern and sometimes three times the scale of the human body, are made up of a myriad of pieces of textiles. Soaked in a solution of sugar, water and glue that fixes the material, they are then filled and formed by blowing air. The resulting form is a rigid and immobile membrane, bulky yet strong and rigid, unlike the soft and embryonic appearance of traditional inflatable structures.
Jessica Gildea, text for the exhibit Slyboot's Promise, from September 8 to October 13 2012, Cue Art Foundation, New York, N.Y.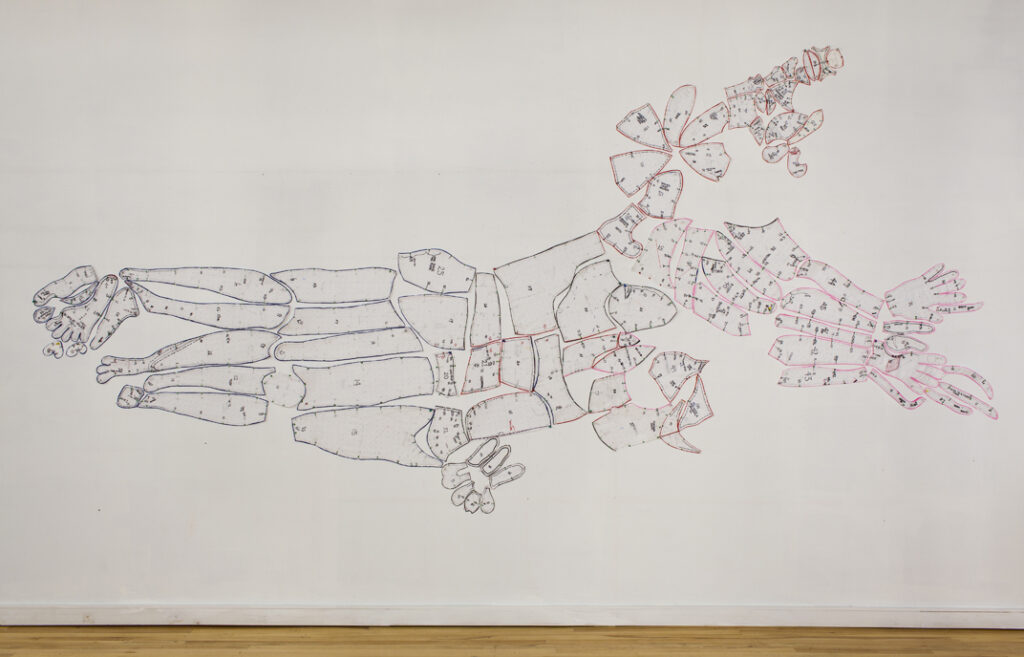 Slyboot's Promise
These pieces are all skin and bones and, at least at the beginning, a lot of hot air. The materials are flexible and liquid: cloth soaked in sugar water. Thin, light and of little substance, these sculptures are a gang of sly boots. Although some of them are really big guys, they are all in the end just surface and illusion. That said, they are stiff, not stuffed; tight and tonic not soft or embryonic like street inflatables, so something must be at work to make these pieces stand, float and leap off the wall, floor, and ceiling as they do. The strength and promise of these pieces depend on the interactions of the weight of the cloth, the cut of the patterns, the choice of seam, the concentration of the sugar water solution and the circulation of air. With the right balance, the sugar reinforces the seams so they can act as bones and binds the fibres so the cloth can hold the gestures of the figures. In fact, once the pieces are set, they are remarkable resistant.
Since I started this work during a residency at the International Studio and Curatorial Programme in New York in 2008, I've come to realise that making these slyboots is a complex and contradictory matter. Complex, because most of the figures are a patchwork of over one hundred and seventy separate pieces of cloth and contradictory, because I consider each piece of cloth as both clothing and body, the assembly of pieces as sculpture and effigy and when I step back, I see the group of works as both classical nudes and superheroes. Perhaps they are so complex and contradictory because I first created the patterns by drawing directly on my companion's body – Michel Daigneault – the different muscle groups to transfer them unto pattern paper only to adjust and exploit the potential and promise of each variable: cloth, cut, seam, mix and air in order to make the cloth be true.
Stephen Schofield
Exhibitions
2008|Toi/You : exposition duo avec Michel Daigneault, La Manif d'art 4, Québec, Québec.
2009| Stumble, exposition solo, Galerie Joyce Yahouda, Montréal. 
2010|Stumble, Person Place Thing, exposition de group, Textile Museum of Canada, Toronto
2010|Stumble, exposition solo, Visual Arts Gallery, New Jersey City University, Jersey City
2011 | Embodying: Joe Biel, James Gobel, Stephen Schofield, Allison Smith, Richard T. Walker, exposition de groupe, Atlanta Contemporary Art Center, Atlanta, Georgia (commissariat Stuart Horodner)
2012|Slyboot's Promise, exposition solo, commissariat Richard Tuttle, catalogue avec textes de Richard Tuttle, jake moore et Stephen Schofield, Cue Foundation, New York, New York
2013|Slyboot's Promise, exposition solo, Galerie d'art d'Outremont, Outremont.
2013|The Gravity of Sculpture, exposition de groupe, Dorsky Projets, Brooklyn, New York, commissariat Saul Ostrow.
2019|Mordre dans les choses, exposition duo avec Michel Daigneault, Ligne Bleu, Carsac-Aillac, France.
2020|Slyboots, dans Contextile 2020, Convento de Santo António dos Capuchos,Guimarães, Portugal